When you have a termite problem in Denver, the best solution is to contact Denver pest control. Termites are sneaky pests. When DIY termite control fails, property owners often don't realize it, which can lead to extensive damage over time. It is best to have a professional install termite protection and make sure it is done correctly. But not all pest control providers are the same. There are subtle differences. You want the best, so you'll want to find a pest control provider that is licensed, bonded, and fully insured. On top of this, look for a company that provides the best and easiest solution. The experts at Beeline Pest Control trust Termidor, the number one brand for professional termite control in the United States. We use Termidor termiticides to arrest termite activity and for ongoing property protection. Some Denver residents have asked us why we use liquid termiticides, not bait. As you decide what company to choose for your termite control, it is critical to consider the best way to get rid of termites. Join us as we look at termite bait solutions, the truth about termiticides, and what you should expect when you hire a professional. Stay with us to the end to learn how Beeline Pest Control offers hassle-free termite control.
Types Of Termite Bait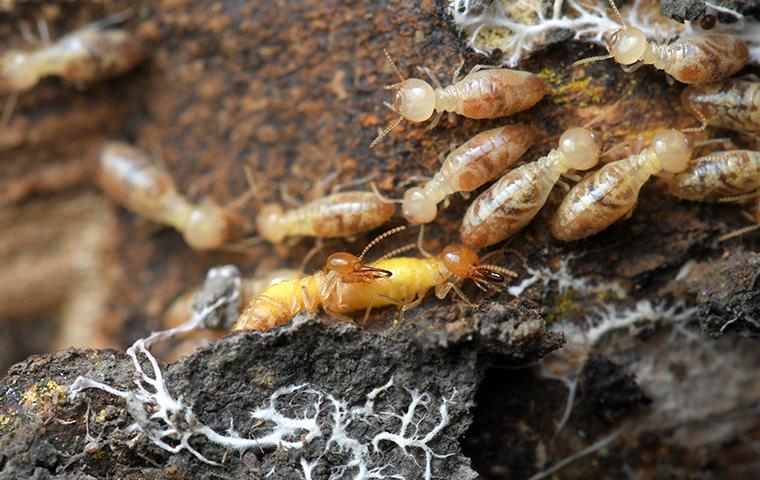 There are many manufacturers of termite bait products, and all termite bait products are not equal to the task. Some baits have extensive research and real-world success to back up their claims. Some only offer empty promises. Most professionals that use bait to control termites trust Sentricon because of its track record and extensive research and testing. Other professional-grade termite baits work as well. But how do these measure up against termiticide? There are a few facts you should know.
Bait excels at detecting termites. It is often difficult to find warning signs of termite activity or evidence of termite damage. When termites feed on bait, your technician knows. Liquid termiticides don't provide a way to detect termites. But, if the product is doing its job and you have annual inspections, you don't need to spend the extra money on bait to protect your property.
Bait offers termite colony elimination but does it in a way that attracts termites. When you put a desirable food source in your yard (even one that works to eliminate termites), you'll draw termites to your property. Termiticides are undetectable to termites and do not impact termite colonies or the production of workers within colonies.
Bait uses termite workers against their own colonies. After the bait is collected, it is shared from termite to termite through trophallaxis (sharing of fluids). Termidor termiticides also have a transfer effect. When termite workers pass through the product, they pick it up and share it while grooming each other. There was a time when termiticides worked to repel and eliminate termite workers. They did not have a transfer effect.
Some professionals use bait products for termite treatments or ongoing protection from termite damage. It is possible to control termites this way, but termiticides with annual termite inspections work better.
Are Termite Control Chemicals Toxic To Humans?
The active ingredient in Termidor is fipronil, which is the number one insecticide used in the United States. It is registered by the U.S. Environmental Protection Agency (EPA). While harmful to humans and pets, the product is applied according to strict protocols and safety guidelines. More than this, termiticide treatments are injected into the ground where humans and pets won't come in contact with the product.
Is termiticide bad for the ecosystem? There are misconceptions regarding the use of termiticides and the impact these products have on the environment. Much of the confusion comes from the fact that there are many termiticide products available. As with bait, all termiticides are not equal to the task of controlling termites. Many still work as they did in the past; they repel or knock down termite workers that pass through treated areas. These products are more toxic than Termidor termiticides.
Termidor bonds to treated soil and creates a zone that termites pass through and acquire the active ingredient. These termites share this ingredient, and it spreads like a virus. The result is colony elimination. Termidor targets termites where termites live and eliminates termites as they share the active ingredient. The product stays underground because termites stay underground.
When evaluating the use of fipronil, it is essential to understand that it is used to control ants, cockroaches, beetles, ticks, fleas, rootworms, weevils, and many other pests. It is a regulated substance and highly scrutinized. It is used in granular turf products, topical pet care products, seed treatments, and agricultural pest control.
In light of the destruction termites cause and their impact on the financial wellbeing of families, the use of termiticides is warranted. When applied by a certified termite control professional, there is no impact on health.
What To Expect When Signing Up For Professional Termite Control
Once you've decided on what termite control method you prefer, you need to select a company that will provide you with the kind of service you want. There is much we can say on this topic but we will keep things simple. You can expect the highest level of professionalism when you make the right choices.
Choose a company that is bonded and insured. Applying termiticide requires drilling and trenching around the exterior of your property. An insured pest control provider offers you protection; if your property is damaged, they cover the bill. A bond provides even more protection as it will cover more than property damage.
Choose a company that is certified. You don't want your property damaged. When you select a company with certified termite control professionals, your installation is performed by individuals with extensive training.
Choose a company that is family-owned and operated. You don't want to deal with a faceless corporate pest control company.
Once you select the right company, what should you expect from the company when technicians arrive at your doorstep?
Technicians have uniforms. A uniformed technician not only looks professional, but the uniform helps with security. You'll easily see when a stranger enters your yard and that they are not part of your termite control team.
The team leader should speak with you about your treatment and guide you in how long it will take and what is required.
Technicians will work around the exterior of your home and trench or drill to install the product.
Some termiticide products have an odor. Termidor does not. If you choose a company that uses Termidor termiticides to protect your property, you'll have the added benefit of not dealing with a bad odor.
Now that you understand how professional termite control products work and what you should expect during termite service, let's talk about what you can expect from Beeline Pest Control.
Total Termite Control For Denver Homeowners
For the best termite control in Denver, you can count on Beeline Pest Control. We meet all of the criteria presented above.
We are licensed, bonded, and insured.
Our technicians are highly trained and certified termite control professionals.
Our technicians arrive in blue uniform shirts and khaki pants.
We apply Termidor termiticides to target termites.
The product we apply doesn't leave a bad smell.
We are a family-owned and operated pest control company.
Along with all of these benefits that should be expected from a termite control company, Beeline Pest Control offers another benefit. We don't burden you with commitments and obligations. We treat once. There is no need for follow-up visits or a regular maintenance plan. When Termidor is installed correctly, your property is protected. We appy ourselves to the task of making sure your termiticide is installed and working. After this is done, you don't need annual inspections added to the cost if you don't want them. Your termite treatment is completely guaranteed. Our goal is always to provide the most effective pest control and the best price point possible. While we don't cut corners, we're always looking for ways to save you money. We believe this is one way we're able to do this.
Would you like to learn more or schedule a termite treatment for your Denver property? We would love the opportunity to speak with you. Connect with us by e-mail, phone, or our contact page for assistance.
Termites in Denver are homewreckers. But you don't have to allow these wood-destroying pests to damage your property. Get termite protection and put the thought of termite damage out of your mind. When you get Termidor termiticide installed, you decide how much you're going to allow termites to cost. There are no surprises when you go to sell your home or when you enter into your retirement years. You can put your termite cost right into your budget. There is no better way to deal with termites. Contact us today for assistance.