Termites in Colorado Springs are destructive insects, but they can't damage your home overnight. They can't even damage it in a couple of years. It takes several years for damage to accumulate. If you want to avoid termite damage, the easy way is to learn how to detect termites and then contact a licensed professional for termite control. Join us today as we discuss how to detect the signs of termites in your yard, how termites damage your home, how to remove attractants that lead to a termite problem, and how to stop termites in their tracks. Does that sound like a plan? If you know you have active termites and you need professional termite pest control in Colorado Springs, contact us for immediate assistance. We can guide you toward the best solution.
Easy-To-Spot Signs Of Termites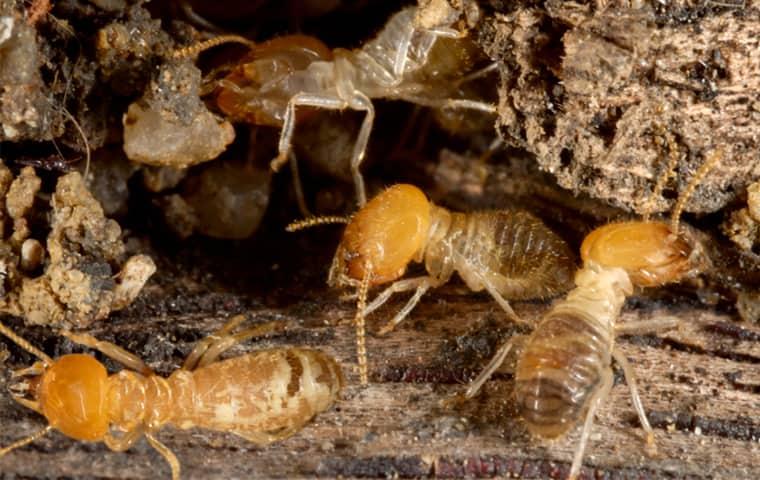 Subterranean termites are incredibly sneaky. If you're not aware, these are the termites we have in Colorado Springs, but even though they're sneaky, you may see them on your property. The trick is recognizing termites when you see them. So, let's start by looking at termite identification.
Worker Termites: These insects look like fat, white ants. Some residents describe them as maggots with legs. Sorry. It is gross but true. They look like fly larvae. But, when you see pale-colored bugs that look like fly larvae clinging to the bottom of a dead branch in your yard, you should know that fly larvae have no interest in feeding on wood. They also don't have legs. A tiny, pale-colored, six-legged critter is likely a worker termite. Worker termites are about ⅛ of an inch long, so it isn't easy to recognize them as termites, even if you've seen pictures of termites. They look like specks.
Winged Termites: These insects, often called swarmers, are black with long white wings. The wings hang past the abdomen of a swarmer quite a bit and make it easy to tell these pests from other insects. They also look a little bit like an exclamation mark with their black bodies being the periods. Take a moment to look at any tiny insects crawling on your walkway, driveway, or back porch. If it is a swarmer, it is a warning sign. Those winged reproductives don't travel far from the nest.
Shelter Tubes: These mud structures, also called mud tubes, typically look like wiggly mud lines. If you see mud lines on your foundation walls or an inner wall of a crawlspace, it is time to call a professional. Keep in mind that worker termites have a strong aversion to light. They don't even like moonlight. When they create shelter tubes, they typically do so in areas that are hidden. Some technicians have found shelter tubes inside piers within crawlspaces, so a cursory inspection won't guarantee that you have no shelter tubes. However, you may get lucky and find an easy-to-spot shelter tube. It can happen.
Wings: During the mating process, winged termites shed their wings. It is important to keep watch for swarmer wings because swarms last less than an hour. The shed wings are often the only sign they leave behind. Inspect spider webs, exterior surfaces, and sheltered locations. Termite wings are uniform in size.
Mud Columns: When worker termites find the right location and stack shelter tubes on top of each other, they may create a column. There are few sights as horrifying as this if you hope to avoid termite damage.
Clicking Sounds: Termites don't make noise when they eat, but you may hear sounds when an enemy enters their tunnels—like an invading army of ants. Soldier termites bang their heads on tunnel walls to alert the workers. The sound is often described as a clicking noise. Some refer to it as a rustling noise.
You may notice that we didn't add "termite damage" to our list. While termite damage is a way to detect termites, it is rarely easy to spot.
The Extent Of Structural Damage Termites Can Cause
Termites are notorious for their ability to damage wood. But how bad are they really? The answer to this question isn't straightforward. It depends on your property. It depends on the conducive conditions in your yard. It also depends on how early you catch them. Here are a few ways to find termite damage early:
Excavate soil around wood-to-soil contact. For example, wood posts on your back deck. If you remove the soil and see trenches in the wood, you have a problem. There are only two insects in our area that create stacked tunnels in soft wood. They are termites and carpenter ants. If you find carpenter ant tunnels, they will feel smooth to the touch.
Check underneath stacked wood. If you keep wood on your property and stack wood on the ground, termites can enter the wood. Inspect the underside for worker termites or damage to the wood. If termites have eaten the wood, it may feel light and hollowed out.
The longer termites have to damage your home, the more you'll notice the damage. Here are some ways to detect termite damage late:
If termites have hollowed out a structural beam, you'll notice when you tap on it that it sounds hollow.
If termites are feeding on subflooring, your floors may squeak or you may notice areas that are sunken.
If termites are in your walls, your walls may bulge.
If termites are in your studs or frames, doors or windows may stick.
If termites are in your trusses, your ceiling may sag.
If termites are feeding on the wood supports of your home, they may splinter.
Watch for any changes to the wood of your home. Termites aren't the only pests that can damage wood. If you see wood damage, contact Beeline Pest Control for assistance. Our technicians are experienced in diagnosing wood damage and prescribing appropriate treatments.
How To Remove Factors From Your Property That Attract Termites
Along with routine inspections and keeping watch for termite warning signs, there are steps you can take to make your property less appealing to termites. You can take these steps at any time.
Do you have to pick up dead branches in your yard? If so, remove them or store them in a container to keep them off the ground.
Do you have a stack of wood? Consider putting wood on a rubber mat or elevated platform.
Do you have scrap wood in your yard? Pick that wood up and store it in a bin.
Do you have a pile of cardboard or paper? These are a delectable food source for termites. Store them as you would other wood sources.
Do you have stumps, logs, or dying trees? Burn those stumps, remove those logs, and nurse dying trees back to health. Termites rarely eat healthy trees. They eat dead wood and turn the wood into compost.
Do you have an old wooden fence? Consider removing it and installing a fence that is made from a material termites don't eat, such as vinyl.
Do you have wood skirting around your home? Consider replacing the skirting with another material.
Do you have a crawlspace under your home? Consider getting an encapsulation to create a space that is free of humidity, and one that keeps termites out of that critical space. Also, refrain from storing any wood products in your crawlspace or underneath your back deck.
Do you have a back deck with wooden posts that go into the ground? Put those posts on concrete supports so you can see shelter tubes when termites try to eat the wood.
Do you have a clogged gutter or plants growing up there? Clean your gutters and consider installing gutter guards to keep leaves and stick debris from turning into soil. Doing so will prevent water from pouring over the edges of your gutters and saturating the soil near your home, which creates conditions that are attractive to worker termites.
Termites don't pass through your yard. They encroach upon your property. Everything you do to make your property less inviting to worker termites will help to deter termites from creating nests in your yard.
The Best Way To Protect Your Home From Termites
If you need assistance with termite inspections, keep Beeline Pest Control in mind. We can perform an annual inspection to look for subtle signs. If you've already found termite activity, we can guide you toward a termite control solution. We use Termidor, the number one name in termite control. The product we apply is so effective, there is no need for a follow-up visit. On top of this, the service is guaranteed. But we understand how termites make some Colorado Springs residents nervous so we are happy to provide standalone inspections or routine termite checks as a part of a year-round pest control service plan. We will work with you to find the right solution for your specific needs and budget. Contact us today to speak with one of our helpful and knowledgeable service professionals.