Help! What Type Of Ants Are All Over My Denver Property?
2/3/2022
Ants are practically everywhere, no matter where you go, and Denver is no exception. If you are a homeowner in the Denver area, you need effective ant control as soon as the problem arises. You might come across problems when figuring out ant control in Denver.
This is due to the resilient nature of these tiny-like bugs, and despite what most might think, they are pretty clever. It might seem like ants show up out of nowhere, but that is not the case. Do ants do what they do for a reason, then? Yes, nearly everything an ant does has been hardwired into its tiny little head, right down to what trail it will walk.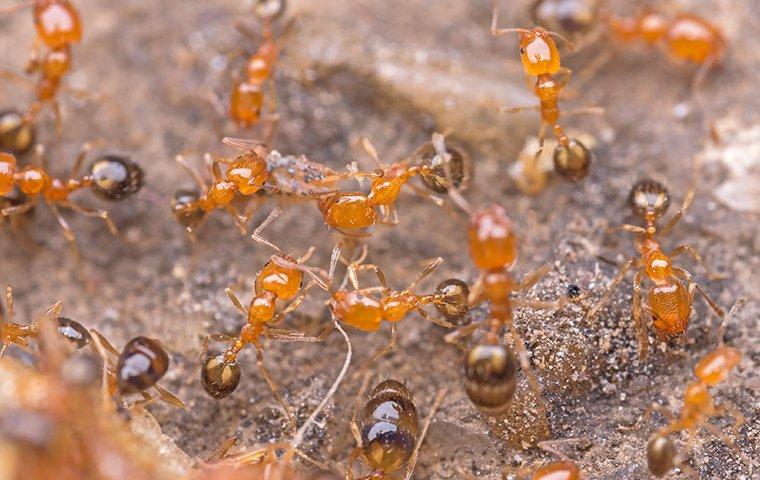 How To Identify The Type Of Ant Infesting Your Denver Home
The first step in solving any problem with ant control in your house is to identify a problem. This can be an easy step as ants are not exactly smart enough to hide their activities. Being driven by the basic needs of the colony to find food and shelter, they don't intentionally conceal their presents.
Here are a few ways you can identify if you have a carpenter ant infestation:
Small piles of sawdust
Bruised or hollow-sounding wood
Soft sounds of crunching or rustling from inside the walls
Holes or tunneling throughout wooden structures
While different types of ants can gain entry to your home, carpenter ants pose the biggest threat to your property. You might be thinking, do ants cause property damage? You'd be surprised to find out that carpenter ants alone cause hundreds of millions in damages in the U.S. annually. That being said, they are no laughing matter, and dealing with them should not be put off.
Which Ants In Denver Bite?
What do ants eat? This might be a very easily answered question, but it's still worth thinking about in regards to ants biting. Carpenter ants can and will bite you, but it is very uncommon. It's typically done in self-defense and innocuous to your overall health.
However, some ants act aggressively by nature. These fall along the lines of fire and harvester ants, with stinging bites meant to inflict maximum pain. Harvester ants typically bite to protect their colony and queen. But going back to that question of what do ants eat… Well, fire ants can kill and eat small animals.
Ant Prevention Tips For Denver Homes
Here are some tips on how to get rid of ants. As well as ways you can implement ant control in your house to stop them in their tracks:
Eliminate still water in and around your home and yard
Keep food in sealed containers
Close up holes or cracks around your windows and doors
Keep your pet food area clean
Regularly check any house plants and clean up excess water
By doing this and maintaining a clean space, you can fight unwanted infestation!
What To Do If You Want Total Protection!
If you are looking for the most effective ant control around, you need to call in the big guns. In this case, effective ant control in Denver can be found at Beeline Pest Control. Our team will best inform you on how to get rid of ants and keep them away. But more than that, we will clear your home of ants with a pest-free guarantee.
When you turn to us at Beeline Pest Control, you'll get fast and affordable service you can count on. Our team will always go the extra mile to ensure that you are satisfied. At Beeline Pest Control we even have eco-friendly options so your yard stays as vibrant as before! Reach out to us today for a free estimate and top-notch service every time.